Overview
Clients are often serviced by more than one person, with each team member playing a vital role in the ongoing maintenance of the relationship and financial accounts. Practifi provides a flexible way of capturing these roles within the servicing team and includes three by default: Financial Advisor, Client Service and Compliance. These roles correspond to specialized apps for those team members and grant them access to the records, alerts and insights they need to succeed.
This article outlines the various ways to manage team member role assignments in your Practifi organization.
Viewing a Client's Servicing Team
The Servicing Team section located in the side pane of the client's record page displays the client's servicing team when expanded: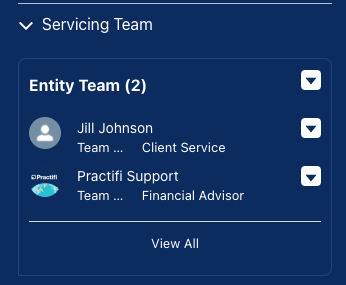 Names, profile pictures and roles appear for each team member assigned to the client within this section. The View All button can be selected to view all servicing team members, which will open a page view displaying all members in the servicing team.
Modifying a Single Client's Team Members
To change team members assigned to a Client record, select the caret located in the Servicing Team section in the side panel.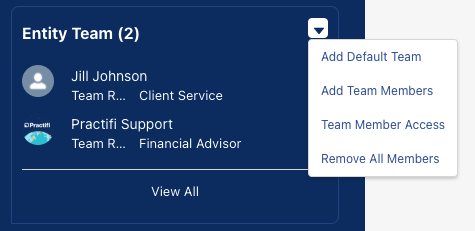 This button will display the following options to make updates to the Entity Team:
Add Default Team -

Takes the team members defined in the record owner's Default Entity Team and adds anyone missing from that list to the client's servicing team.
Add Team Members -

Displays a pop-up window that lets you manually add any team members you would like and define both their role and business role (if applicable).
Team Member Access - Edits the team member's access to the records.
Remove All Members

- Removes all team members assigned to the client's Entity Team and gives a blank slate for adding new team members.
To delete a team member from the Entity Team, select the caret located to the right of the team member's name and select Delete from the drop-down options. To edit the specific team member's role, select the caret beside the team member's name and select Edit to modify the Team Role field.
Tracking Relationships via Business Roles
The Team Role field is used to indicate a Team Member's relationship to a client, however, because that field can't be customized to a firm's specific setup, it often proves to be a flawed description. Practifi has introduced the Business Role field as a way for firms to apply an entirely custom set of descriptors to their team members, making it easy to know who's a Senior Financial Advisor, Secondary Client Service Rep and more.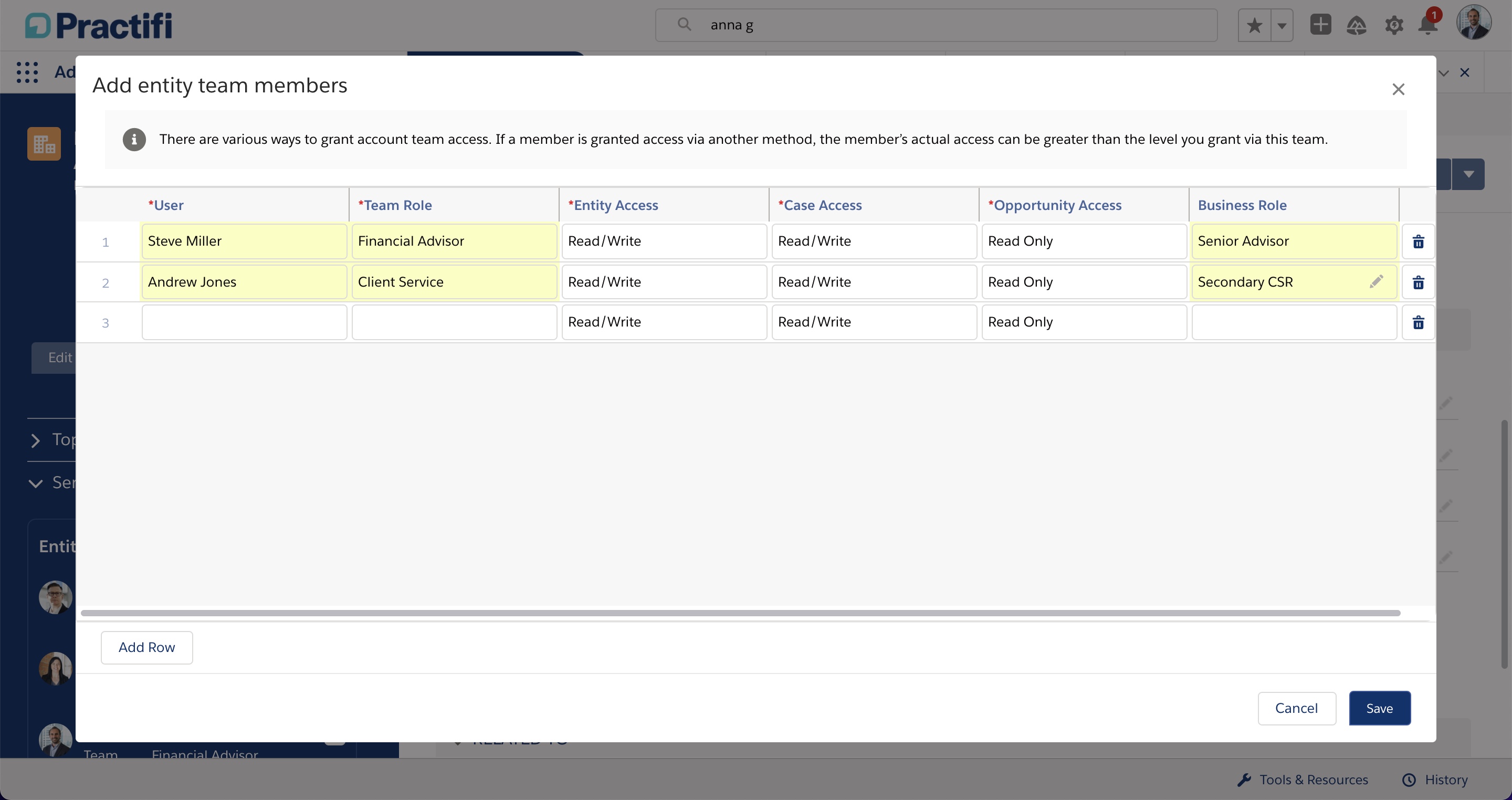 Using Business Roles in Process Tasks
Teams are now able to differentiate between which Servicing Team member gets a Process Task assigned to them. Simply choose Specify by Business Role as the Task's Assignment Type, and type out the desired Business Role as it appears in your picklist.