Overview
Relationships with an entity are links between Contacts or other Key Entities (Households, Organizations or Individuals) recorded within Practifi, with different Key Entities. Key Entities can have more than one relationship role with other entities in your Practifi organization. For example, a Contact can be a Referrer for one entity and also an Attorney for another.
This is different than a member relationship, where a person is part of a Household or Organization and can have the member type of primary contact, spouse, dependent or employee. These types of relationships are covered in our Adding a New Member article. However, the process to create relationships between Key Entities follows similar steps to adding a new member relationship to an entity. This article outlines how to add a new relationship to a Key Entity within your organization.
People & Relationships
A new relationship is established by first selecting the People & Relationships section on the record's side panel. Once this section is selected, select the Relationship subtab. This subtab will list any existing relationships established with the Entity. To add a relationship, select the New Relationship button in the upper right-hand corner of the screen.

A pop-up will appear displaying two questions on your screen. The first question sets the direction of the relationship. This means that is designated to be a relationship with the entity or the entity's relationship with someone else. To proceed in the relationship creation, select the appropriate option from the drop-down menu.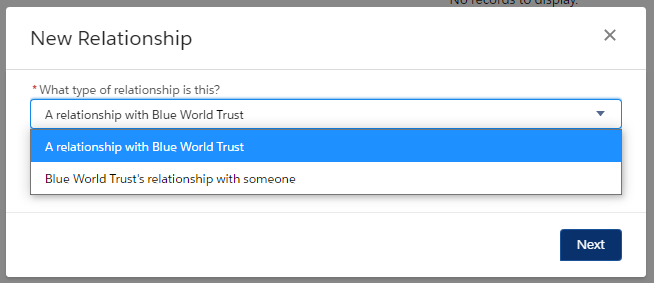 The second question displayed asks which other entity type should the relationship be made either as a Contact, Individual, Household or Organization.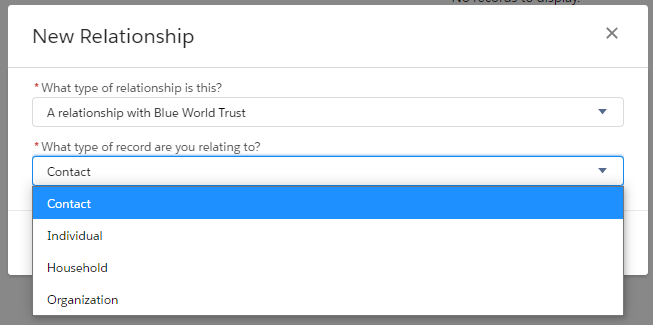 Once this information is entered, select Next to proceed to the search panel.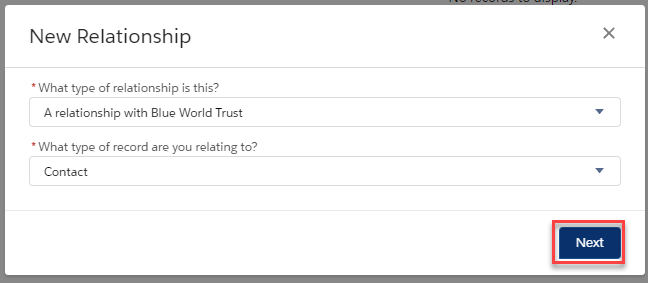 On the next panel, you will be asked to search for the entity record you selected earlier and the relationship role between the searched entity and the primary entity.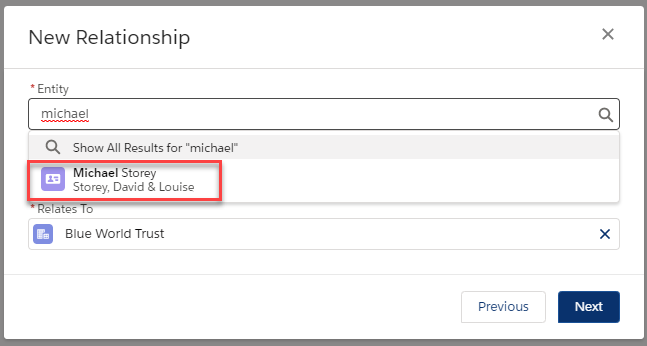 Select the relationship role that applies to the relationship you are creating from the Role drop-down menu.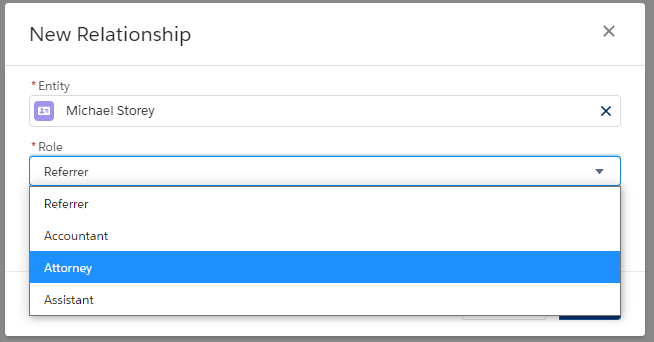 Once the information is entered, click Next to establish the Relationship.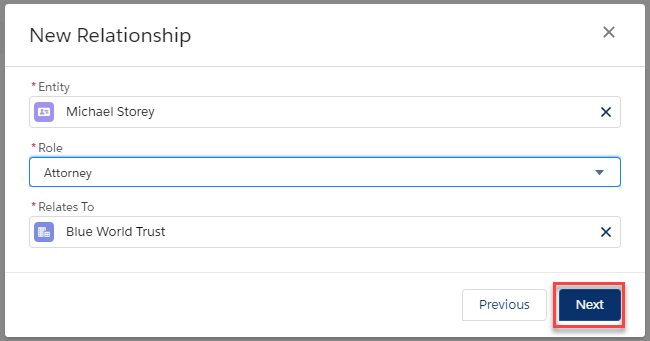 If the relationship is created properly, a short success message will appear on your screen. Click the X on the right-hand side of the message to close this message.