Overview
Whether a relationship exists within a Household or Organization, such as family members or employees, or with external parties such as accountants and lawyers, capturing it in Practifi helps make your Client and Prospect profiles richer and more comprehensive. This article describes how to record and manage these relationships.
Relationship locations
Members and other relationships can be accessed from the People & Relationships section on the record page for Households and Organizations. Because Individuals cannot have members, they have a Relationships section. For example, the following screenshot is the People & Relationships section of the Feldman Household's record page.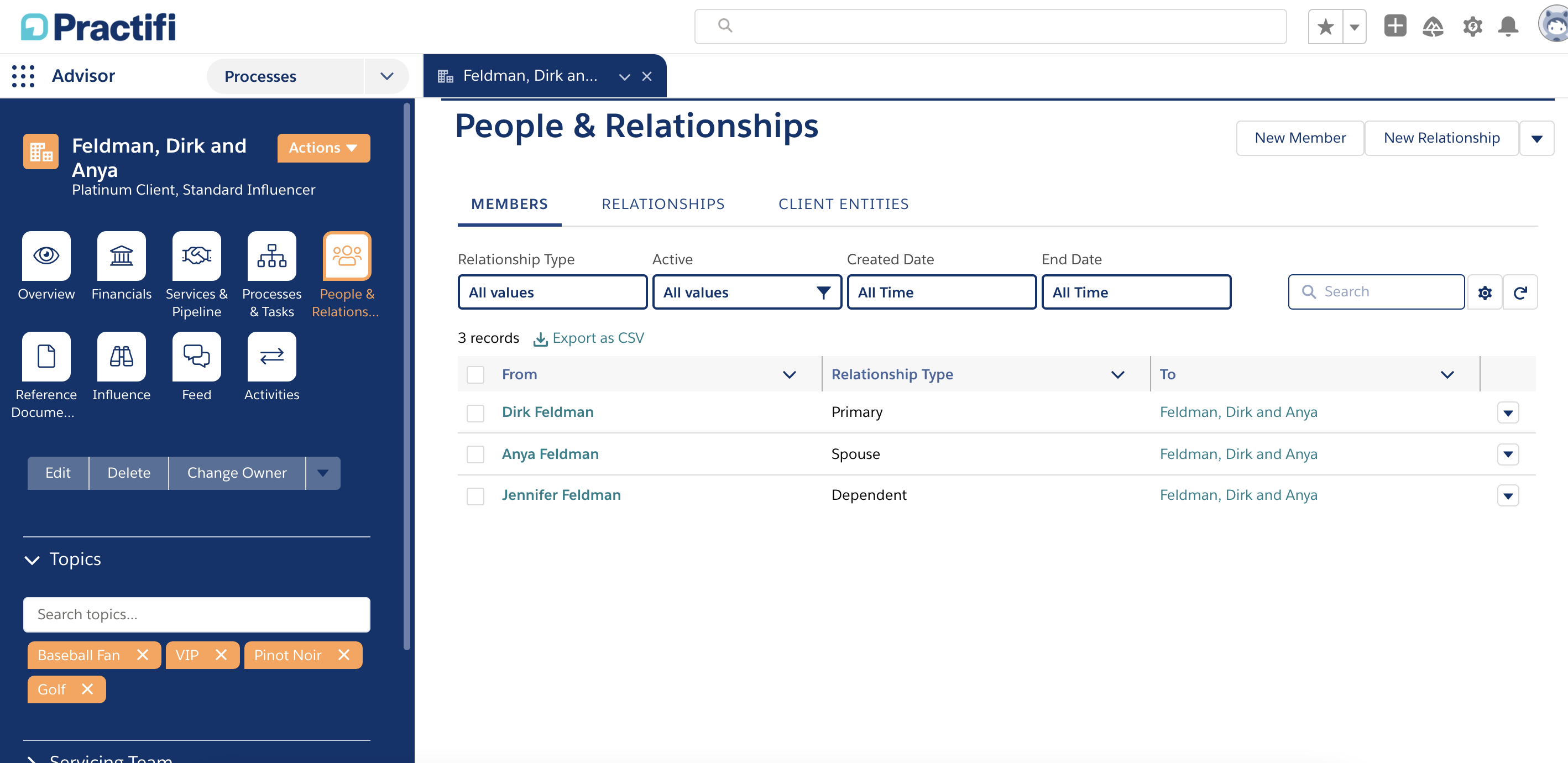 The Members record table is currently visible, displaying a list of household members: Dirk, the primary contact, his partner Anya and their daughter Jennifer (dependents). Other relationships can be seen by opening the Relationships subtab, available below the section heading.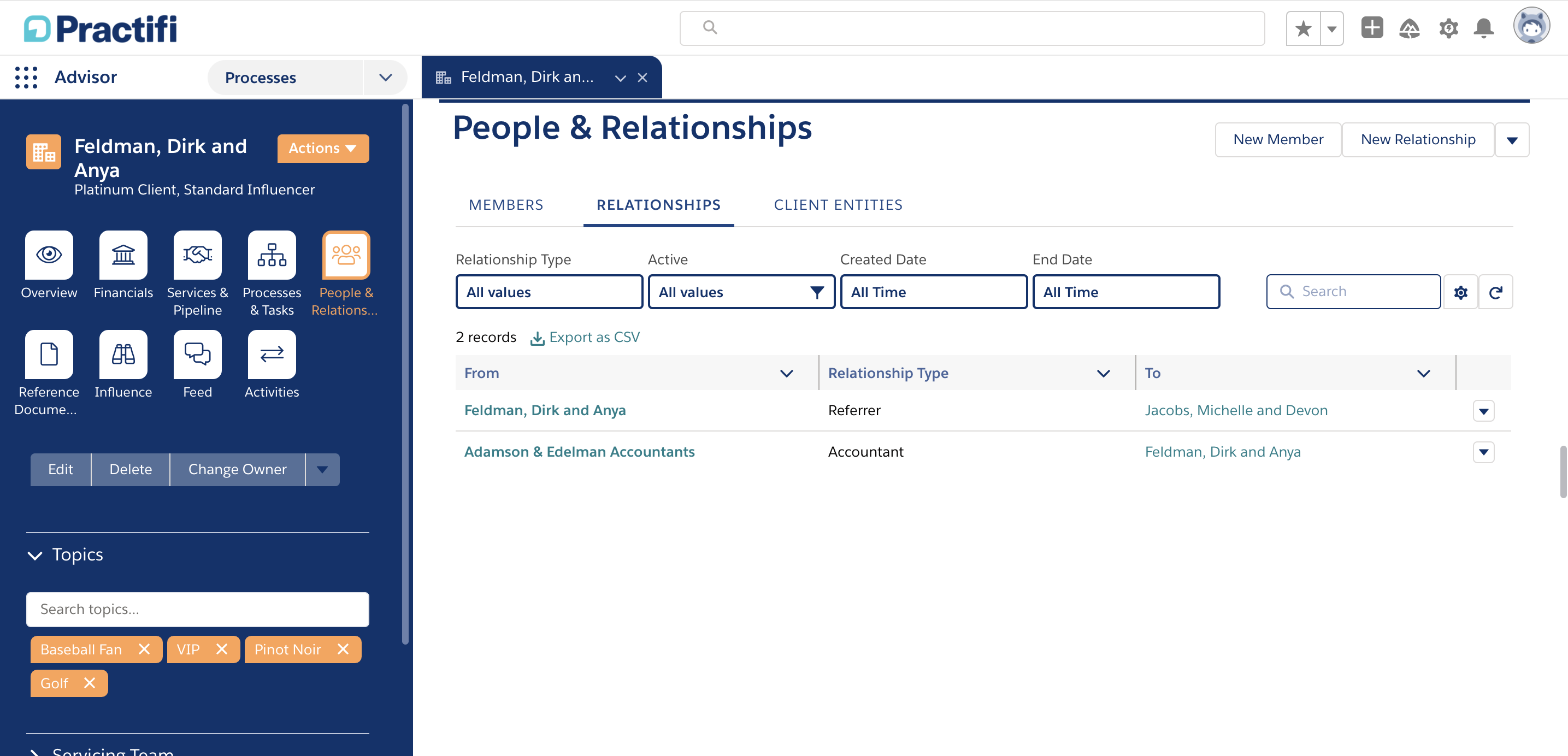 Adding relationships
The New Member (available on Households and Organizations only) and New Relationship actions in the section heading walk you through the process whenever you need to add to the relationships currently captured.
New Member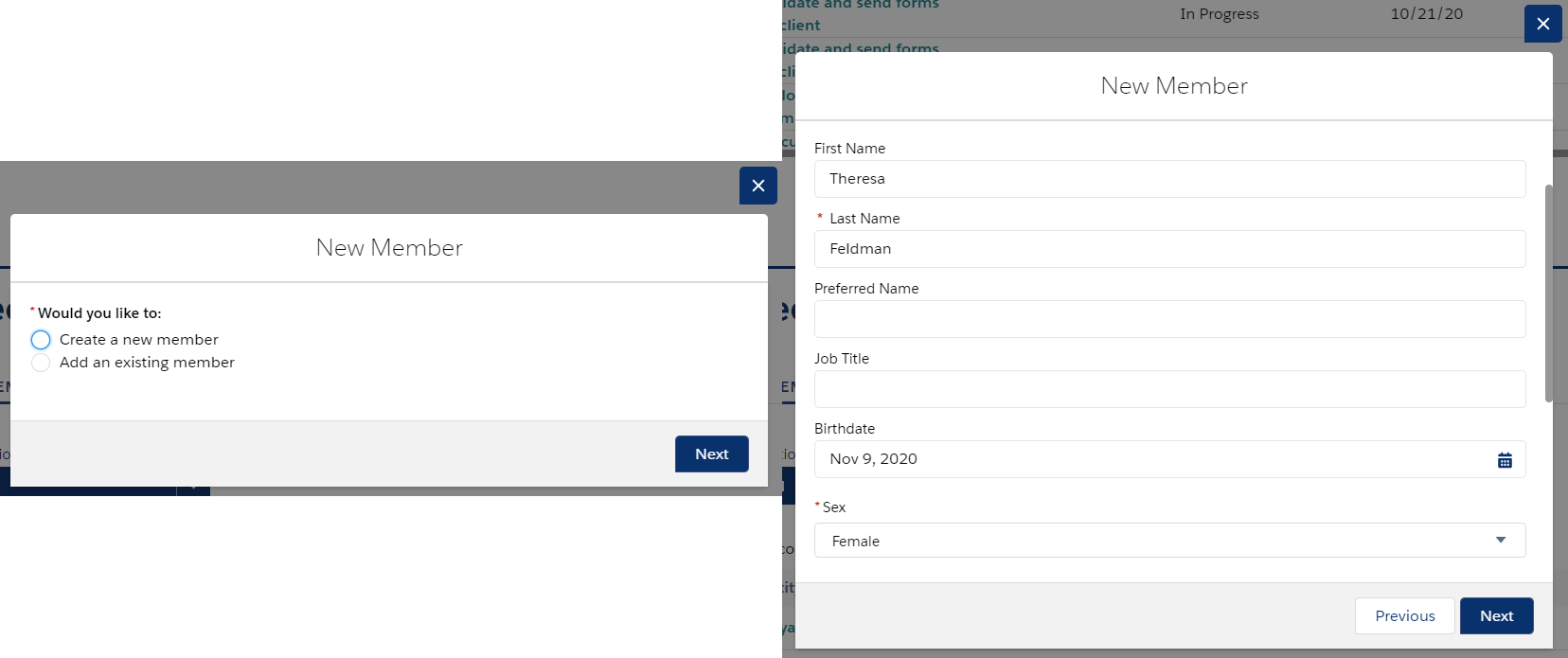 This action supports linking existing Individuals to the Household or Organization and creating new members. Select the appropriate option and then either fill in the new Individual's details or choose the existing Individual. After selection or creation, define their role in the Household or Organization and click Next to finish the process.
By default, the available roles when creating a new member are:

Primary
Partner (households only)
Dependent (households only)
Employee (organizations only)
Please note: When searching for an existing Individual to add as a member, you'll see Households and Organizations among the list of matching records. However, if you select one of these and attempt to save the member, you will receive an error message.
New Relationship

This action is used for creating all external relationships with other parties. In the example above, we're capturing Bradley Cooper Accounting as the accounting firm used by Dirk and Anya. The first screen lets you select whether the relationship is from another party to this one or to another party from this one and prefills either the top or bottom lookup field on the second screen, depending on your selection.
By default, the available roles when creating a new relationship are:

Accountant
Attorney
Referrer
Please note: There is currently no limitation on which roles can be assigned based on whether either party is a Household, Organization or Individual. For example, the Feldman household can be captured as the attorneys for the Montgomery household. Be sure to double-check your data before entering it. In particular, make sure you have the from and to parties designated around the right way. This action does not allow you to create new Individuals, Households or Organizations, only link to existing ones.
Editing and deleting relationships
Unlike other records, relationships do not have a record page directly accessible from a Practifi app. This is because the record is primarily there to connect two more Households, Organizations, or Individuals. Instead, these records are displayed within the related entities pages.
If there is some supplementary information about the relationship you might wish to include, such as a start date or description, these can be accessed from the Edit action each record has in the Members and Relationships record tables.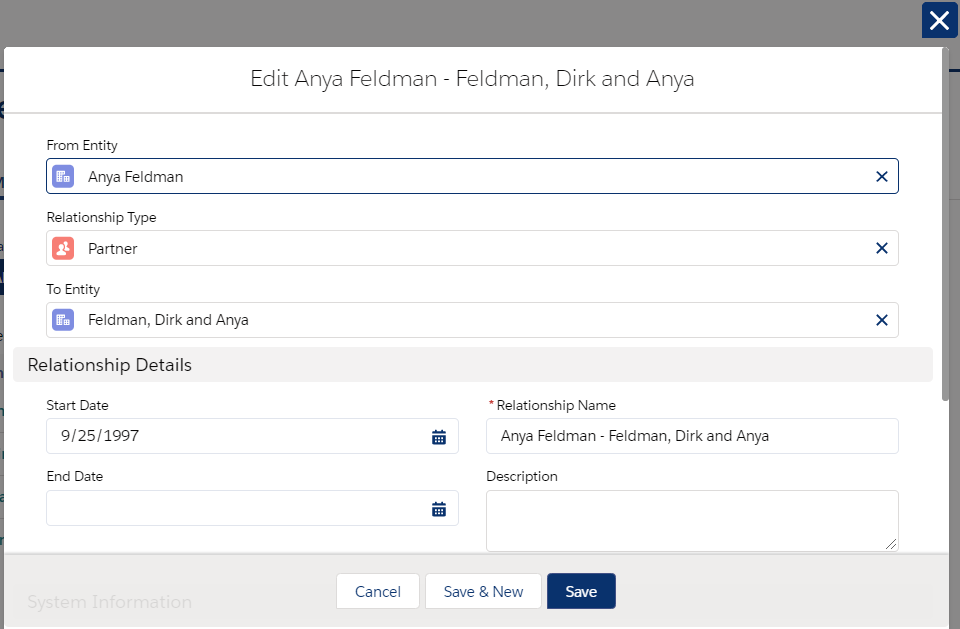 Please note: While you can modify the From Entity, Relationship Type and To Entity fields from this page directly, it is not best practice to not edit these from this screen. If you need to modify one of these fields, we recommend deleting the relationship and creating a new one in its place.
Deleting relationship records is available using the Delete action found in the same row menu and is available if you've been enabled to delete records by your Practifi System Administrator.
To completely remove a member from their household or organization and treat them as a standalone Individual, you will need to do more than remove the relationship to complete the process. Change the member's record type from Individual Member to Individual by clicking the

icon found next to the Entity Record Type field in the System Information section of the Basics tab: