Overview
The emails you read and send from Outlook or Gmail can be optionally logged against households, organizations and individuals in Practifi by using Salesforce's add-ins. Once installed in Outlook or Gmail, these add-ins generate a side pane that appears alongside your inbox and email composer. The side pane provides access to various logging options, including suggested records, as well as other product features like a fully-fledged search experience and task management capabilities.
Installing the Add-in
Gmail users can install the Salesforce add-in from the Chrome Web Store by searching within the web store for "Salesforce" and adding the Salesforce extension. Please note: that you must have a G Suite corporate email account, not a personal Gmail account, to use this add-in, and that only Google Chrome is supported in terms of browsers.
Outlook users can install the add-in if their Office 365 administrator has enabled access. Microsoft provides guides for desktop and web users that will help you locate the Salesforce add-in and install it. However, many firms restrict access to this feature, and in that case, the add-in will need to be deployed to select users by your IT team.
Accessing the Side Pane
Both integrations display content in a pane visible on the right side of your window as you navigate your inbox and compose messages. This is accessed by clicking the Salesforce button when you have an email open or composing one. Here's an example from the Outlook desktop app:

By clicking Salesforce's View button in the ribbon, the side pane becomes visible. Outlook users can keep the side pane persistent by clicking the pin

in the top-right of the pane.
Navigating the Pane
Within the pane, you have access to a handful of core Practifi features that allow you to accomplish more from your email application directly. The Create menu in the top-left contains shortcuts for creating Tasks, Events and Individual records. Search provides easy access to a restricted view of all types of records and notifications are available as well via the bell icon.
Below these items, three tabs are accessible from the side pane:
Related - Opened by default, this tab displays a list of individuals either suggested for logging or who the email has already been logged against.
Tasks - Displays a list of Practifi Tasks. Today's Tasks is shown by default, but other lists such as My Tasks and All Overdue are also available.

Please note

: While you can complete Tasks from this tab by checking the checkbox next to them, you will be unable to select an Outcome for the task even if one exists.

Feed - Displays a consolidated feed of posts made on records owned by you.
Logging an Email
Each sender and recipient found in the email you have open - whether you're reading it or writing it - is displayed in the Individuals section of the side pane. They appear in one of two ways:
If the email address matches an Individual in Practifi, the matching record is displayed.
If no matching email address is found, a placeholder appears with an "Add to Salesforce" button allowing you to capture them as a new Individual record. Once created, the email can be logged against their record.
You can click the "Log Email" button to link the email to one or more of the displayed Individuals (they appear in the People section on this page); select the names of the people you wish to log the email against, then click Save.
The search bar above the People section allows you to find either additional Individuals to log the email against, or a record of another type, most typically a Household or Organization. Once selected, they'll appear in the Other section: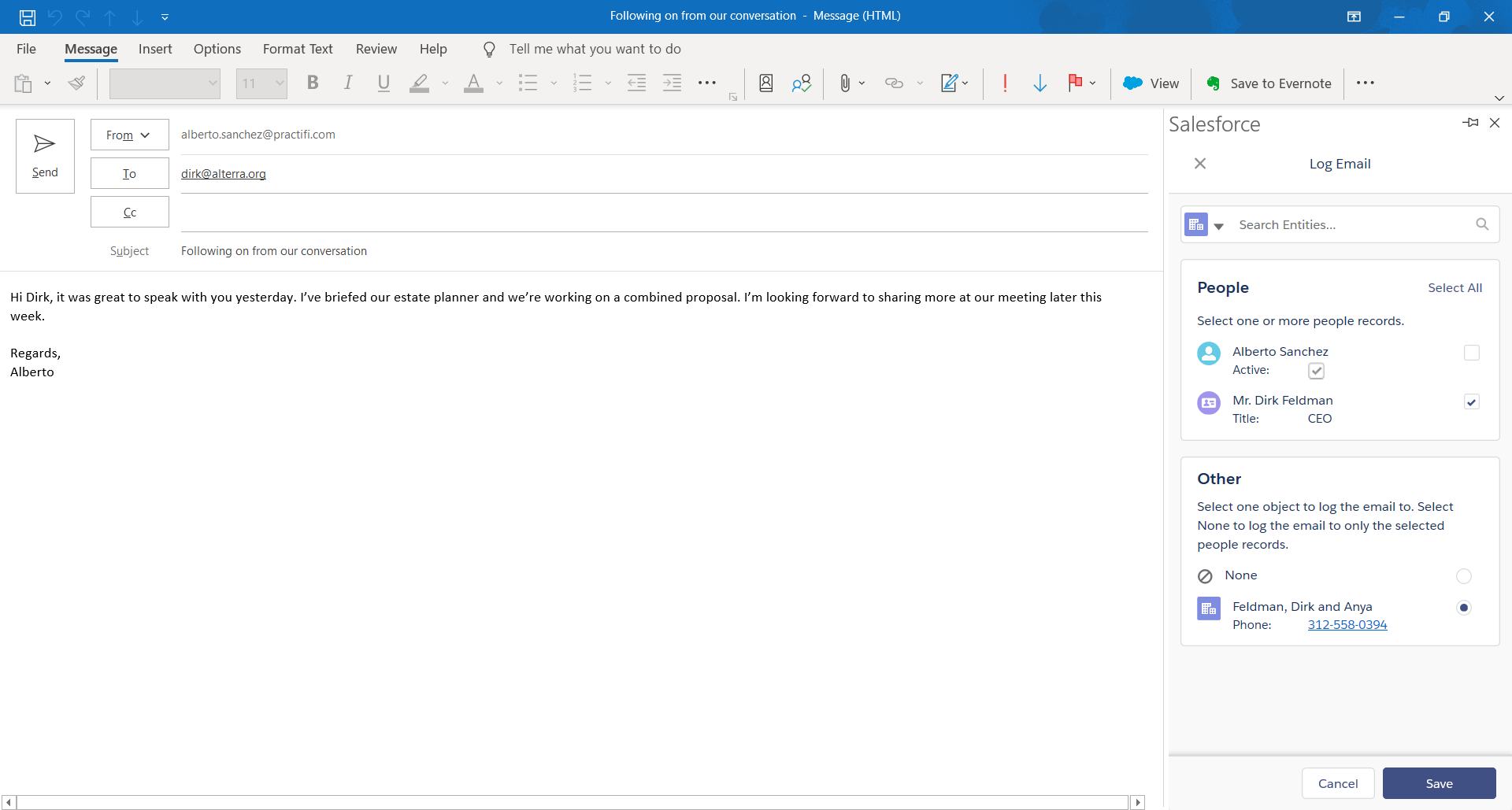 You can also log an email against a record directly from its record detail page, which you can access using Search. Once you have their record open, use the Log button in the record header. This is particularly useful when logging emails against households and organizations, which often don't have email addresses provided.

There are some considerations and constraints users should be aware of when logging emails:
Emails in Salesforce can be logged against multiple Individuals, but only one other record. Households and organizations fall into the "other record" category, and so you can only log one against each email.

If you log an email against two or more Individuals, the system automatically tries to determine which of those it should derive the Primary Household/Organization from to log the email against. It checks the To, Cc and Bcc address fields in that order but cannot check the From address field due to a limitation with the Salesforce platform.
As a result, we recommend the following approach to logging emails:
If you're

logging an email against one individual, you can do it from the side pane's suggestions page by clicking the Log Email button at the top.

If you're logging an email against two or more individuals...

First, log it against the Primary Household/Organization by either clicking their record name (which appears underneath the name of a suggested individual) or searching for them, then clicking the Log button on their record page once it appears.

Then, use the Back button to return to the suggestions page and log the email against as many Individuals as you wish by clicking the Edit Logged Email button at the top of the side pane.