This article explains how to categorize households, organizations and individuals (collectively known as entities) in Practifi using two methods:
Topics to categorize in an unstructured, ad-hoc way, e.g., categorizing someone you met at a recent function as a "Potential Lead." Topics can be whatever you want them to be but don't have any other effect on the records themselves.
Definitions to categorize in a structured way, e.g., categorizing that same person as a Prospect once you've qualified them. The definitions available are predefined and can't be customized; however, this allows them to make changes to the system; each one affects where you find the records in your app and what you see when you open them.
Topics
Add topics to Entities from the record's side pane in the relevant accordion section. Start typing a topic name to see suggestions based on other topics people have added previously, or press Enter to add what you've already entered as a new topic: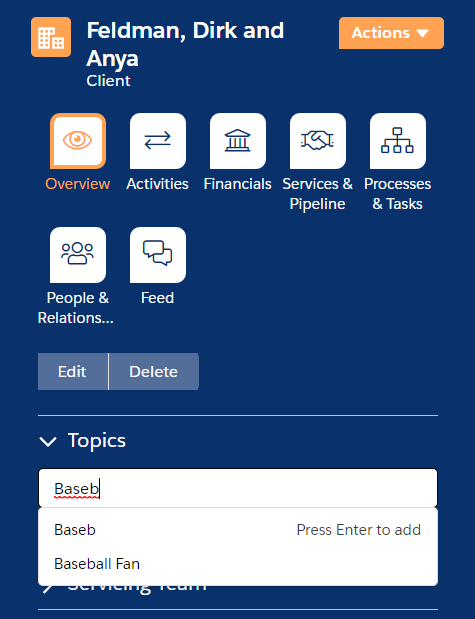 Once you assign the topic, you'll see it sitting alongside others for that record in a series of badges below the search bar: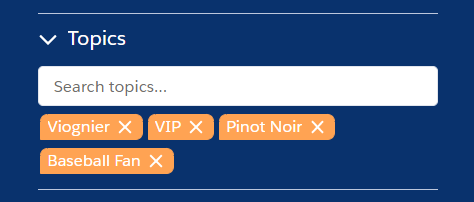 Once added, topics are visible when viewing record tables on your Directory, Clients, Pipeline and Influence app pages. This makes them easy to find using either the Topics filter on those pages, or if you know what you're looking for already, by using the table's search feature:

Topics can even be found in the global search bar. Selecting a topic from here takes you to the topic's dedicated page, which displays all the records it's been assigned to:

Definitions
If you want to take advantage of features built for certain kinds of relationships, like managing assets for clients, then you'll need to assign the record a definition. Definitions are based on two factors:
Client Stage, which can be set to Prospect, Client, Lost Prospect or Lost Client. If the entity is a Client, then their Client Segment is displayed.
Influencer Segment, which can be set to Standard, Important or Critical
These values appear when searching for entities in app pages such as Directory, Clients and Influence: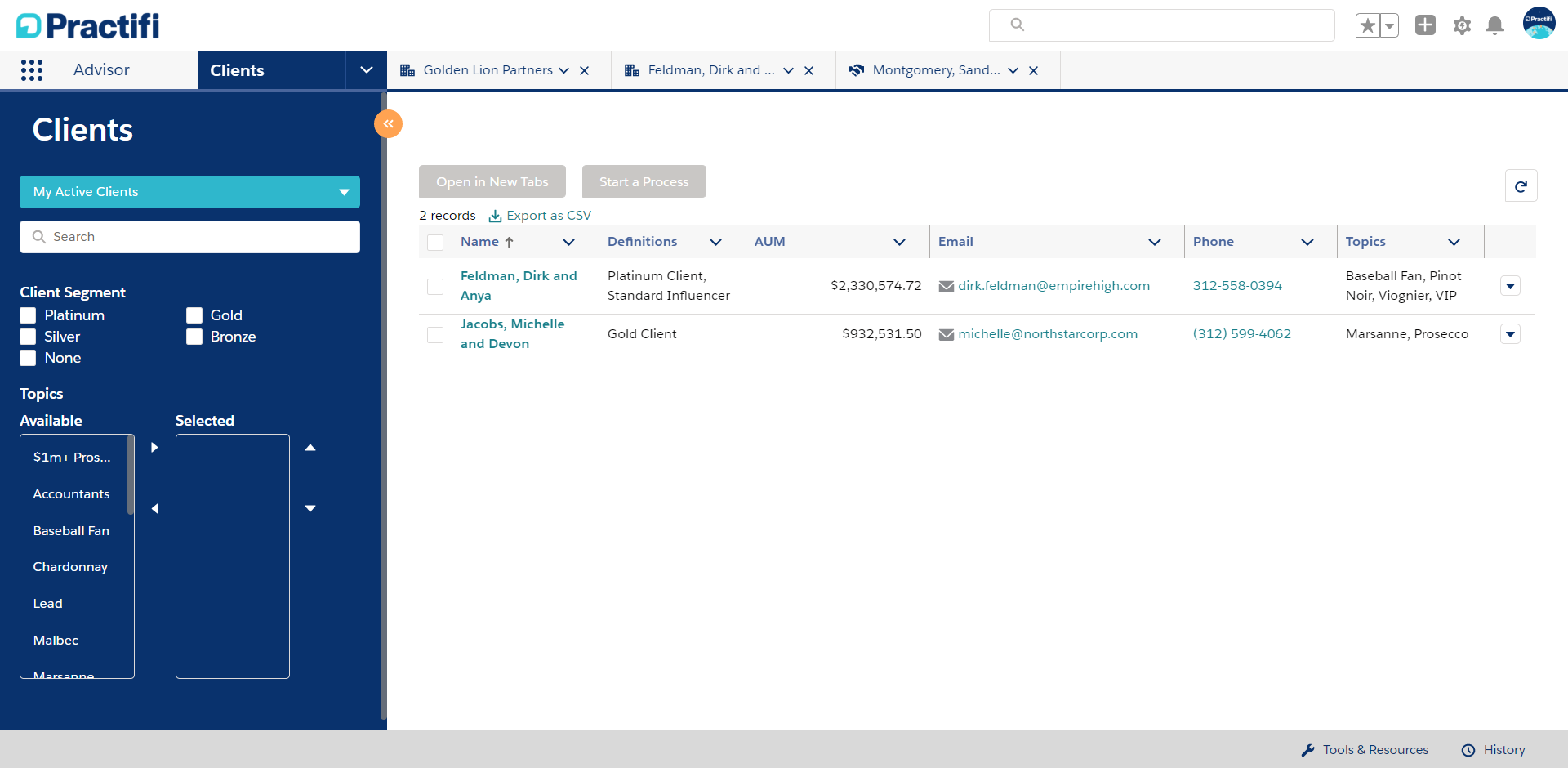 As well as below the entity's name in the record header, found in the side pane of the record page: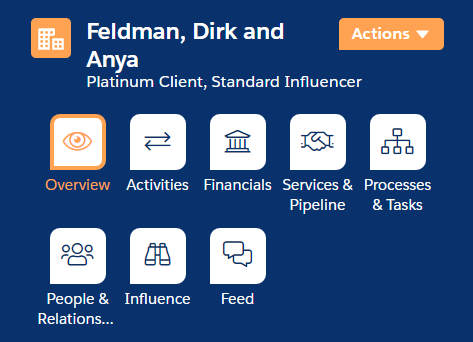 Open the actions menu and you'll see different options available to you for redefining your relationship with the record, based on the current definitions assigned: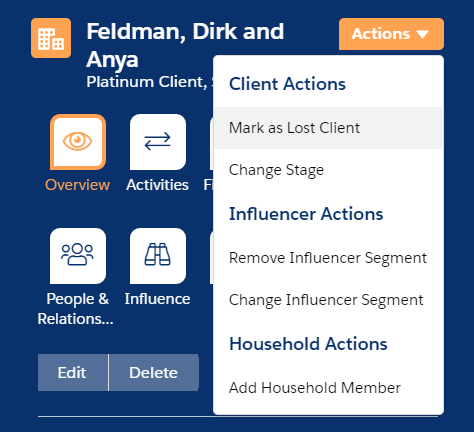 We've summarised how Client Stages and Influencer Segments affect record visibility and page layout in the tables below:
Client Stage
| | No stage | Prospect | Lost Prospect | Client | Lost Client |
| --- | --- | --- | --- | --- | --- |
| Visible in app pages | Directory | Directory, Pipeline | Directory, Pipeline | Directory, Clients | Directory, Clients |
| Navigation items on record page | Overview, Activities, Relationships, Feed | Overview, Activities, Pipeline, Processes & Tasks, Relationships, Feed | Overview, Activities, Pipeline, Processes & Tasks, Relationships, Feed | Overview, Activities, Financials, Services & Pipeline, Processes & Tasks, Relationships, Feed | Overview, Activities, Financials, Services & Pipeline, Processes & Tasks, Relationships, Feed |
| Available actions on record page | Promote to Prospect | Promote to Client, Mark as Lost Prospect, Change Stage | Change Stage | Mark as Lost Client, Change Stage | Change Stage |
Influencer Segment
| | No segment | Any segment |
| --- | --- | --- |
| Visible in app pages | Directory | Directory, Influence |
| Navigation items on record page | Existing items based on Client Stage | Existing items based on Client Stage, plus Influence |
| Available actions on record page | Add Influencer Segment | Change Influencer Segment, Remove Influencer Segment |