Integration Summary
Our integration with Constant Contact allows Lists of Contact from Practifi to be created and sent to Constant Contact, to be used in Campaigns launched and managed by Constant Contact. Updates to Contact details in Practifi are synched back to Constant Contact. Users can also see the engagement their Contacts have had during Campaigns, directly from within Practifi as a new form of Interaction.
Before You Begin
The customer must have an account with Constant Contact which will be used to authorize the connection between Practifi and the Constant Contact system.
Using the Integration
Add Contacts in a Household to a List
Under a Client open the hidden dropdown icon <icon> and select the Constant Contact Memberships button

The list of Contacts and their existing List memberships is shown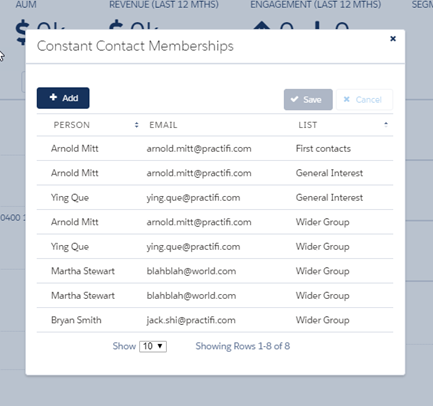 To add a Contact within the Client not already on a Constant Contact list, or to add them to another Constant Contact List, click Add, and complete the dropdowns.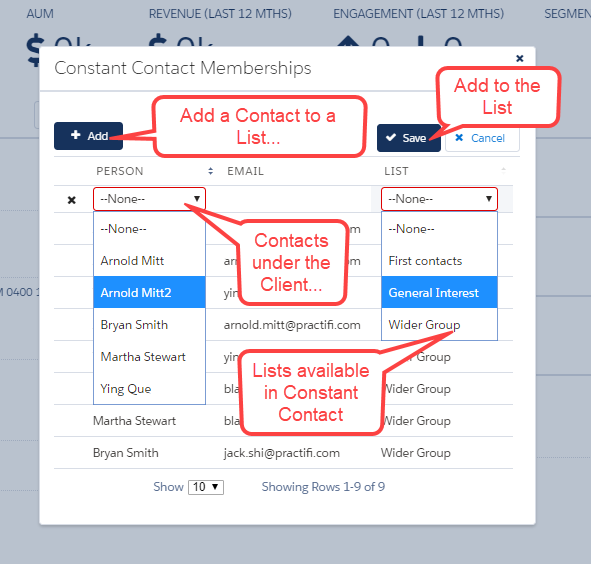 Note: A Practifi Contact not already in Constant Contact will be added to Constant Contact, to the List selected. See the Field Mapping topic under Setting up Constant Contact Integration.
Bulk Add Contacts to a List
Under the Launcher <icon> click on the Bulk Create Constant Contact Memberships.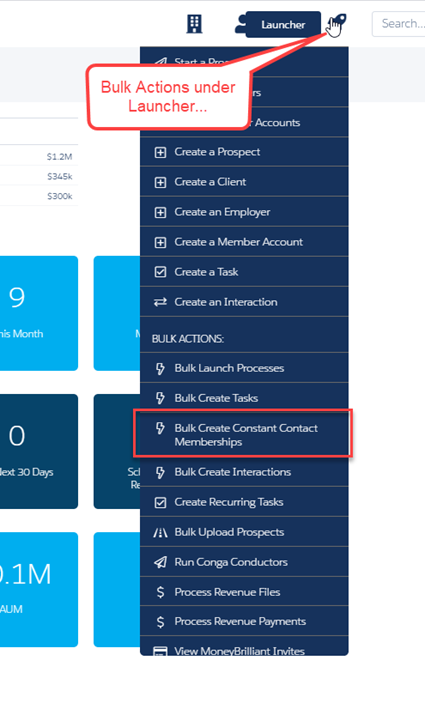 At Step One, select the Constant Contact List to which to add the new Contacts.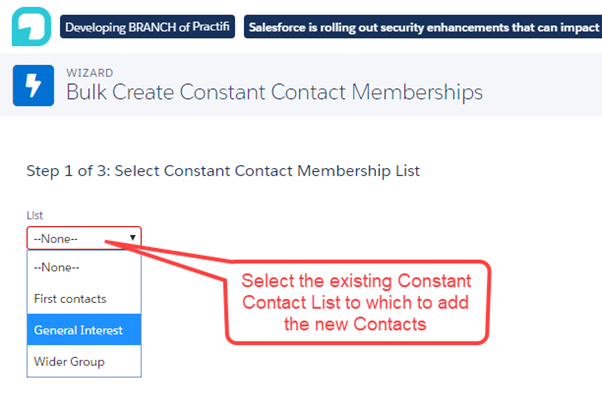 Using existing search filter criteria retrieve a list of matching Contacts, and select all Contacts, or one-by-one, and add them to the Selected List.

Further edit the list of Contacts, including changing the List to which it will be added, or remove from the list of selected Contacts, and click Save & Finish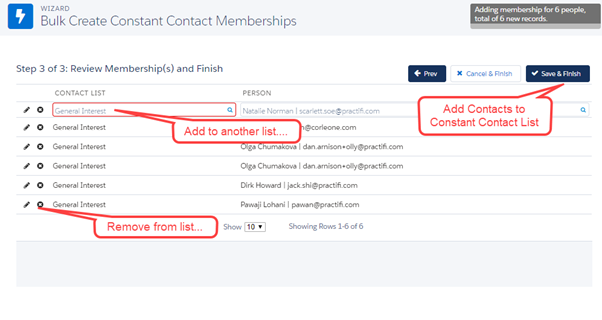 View Contact Engagement History
Under a Client, locate the Interactions tab. A list of all Interactions with the Client is shown, including what form of interaction. Constant Contact interactions are listed.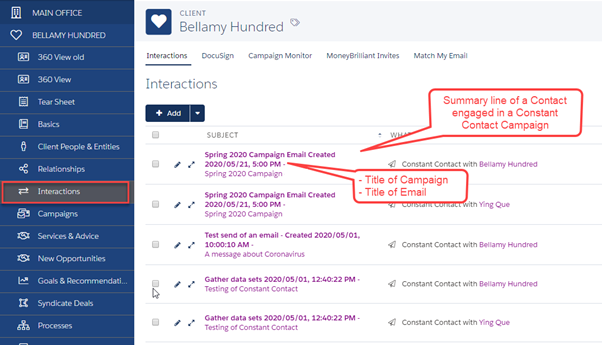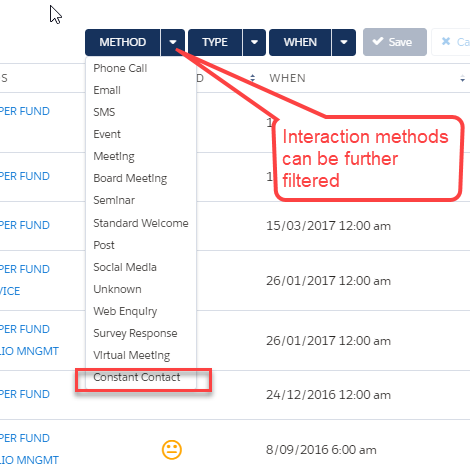 To view additional details of the Interaction, click on the Subject.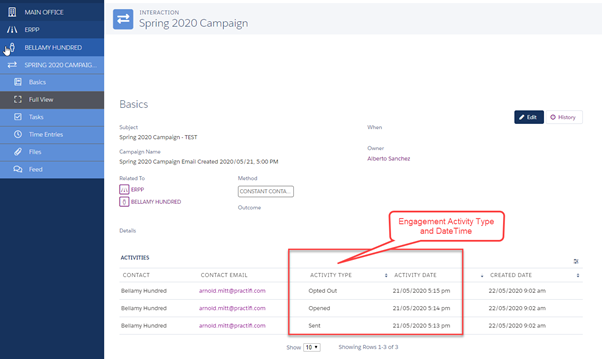 Notes
Opt-out and Subscribing
The model adopted in the integration between Practifi and Constant Contact is that Practifi maintains its role as the CRM for email activity for the firm's clients, and that Constant Contact is the tool for launching Campaigns from lists of Contacts, and logging email engagement Activities from recipients.
If customer Opts-out from the email (using the Unsubscribe link in the email footer) they become Unsubscribed in Constant Contact, and cannot be edited or reactivated from Constant Contact from the web page. They are not, however, Opted-out in Practifi (ie the Do Not Email tickbox is not ticked) by opting-out from an email.
Should the contact need to be reactivated in Constant Contact
From Practifi and for the Contact, tick the Do Not Email tickbox, and Save
Then untick the Do Not Email tickbox, and Save. This resets the Subscription status in Constant Contact immediately using an API call.
Resynching between Constant Contact and Practifi
The jobs to synchronize data between Constant Contact and Practifi are set up as nightly jobs. They can be manually initiated from the Settings tab in Practifi. The data that can be synched separately and manually are:
Constant Contact Lists (the groupings of Contacts which are then included in Campaigns)
Constant Contact Contacts (checking to see where there is a match by email address of a Constant Contact Contact, and one in Practifi)
Constant Contact Activities (downloading the engagement Activities of Contacts into the Interactions tab in Practifi)