Overview
Records are what you'll be taking action on and capturing information about when using Practifi. They come in various shapes and sizes, from clients to tasks to individual shareholdings. This article will explain record pages and how to navigate them.
Understanding tabs
Records open in workspace tabs, meaning you can have multiple records open at once and open in two ways: a parent tab or a subtab. Parent tabs are the name you see in the top tab itself in blue. A subtab exists only as a subsection of a parent tab, and so when you open one, you'll see some elements of the parent tab on-screen as well. Let's look at an example of an open subtab: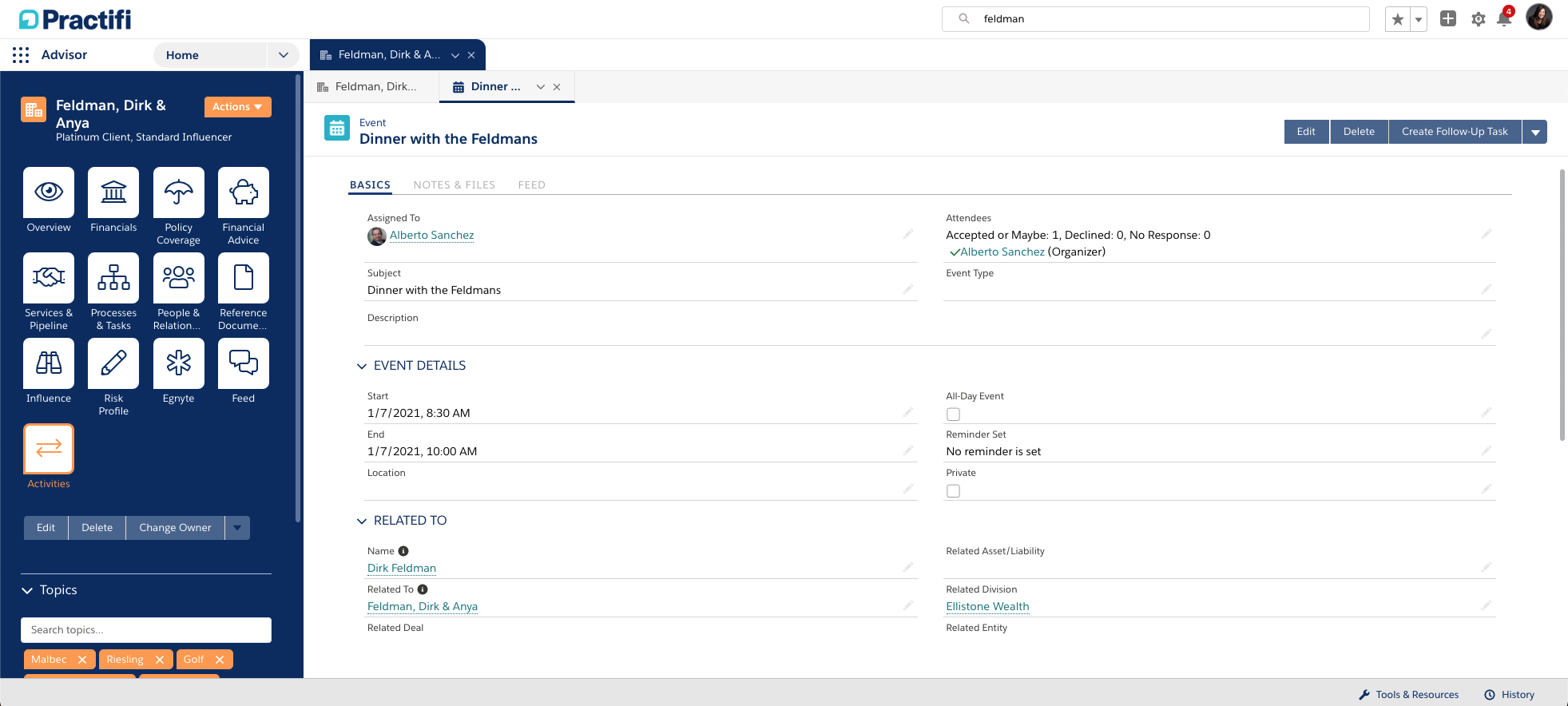 In this example, we're looking at an Event record, a dinner scheduled with the Feldman family. The section on the right-hand side occupying the majority of the screen is the Event record itself, and because we have the Basics tab open a list of fields related to that Event record as well.
On the left is a blue section, the record side panel. This appears because this event is related to the household and is nested within their overall client record. In the example above, you can see in the "Related To" section of fields that our Event is related to the "Feldman, Dirk & Anya" household, which is why we see their name in the side panel.
Get to know the side panel
The side panel appears in many locations in Practifi. Households, organizations, individuals, divisions of your firm and team members all have one when you go to their record pages. Most other records like tasks, events and assets will appear as subtabs meaning they come with a side panel from the main record in tow.
The side panel seen on households, organizations and individuals is the most complex, so we'll focus on those. However, what you learn about them applies to the other panels as well unless otherwise stated. Let's take a closer look at the side panel for Alanah Hastie, an individual who's also a client: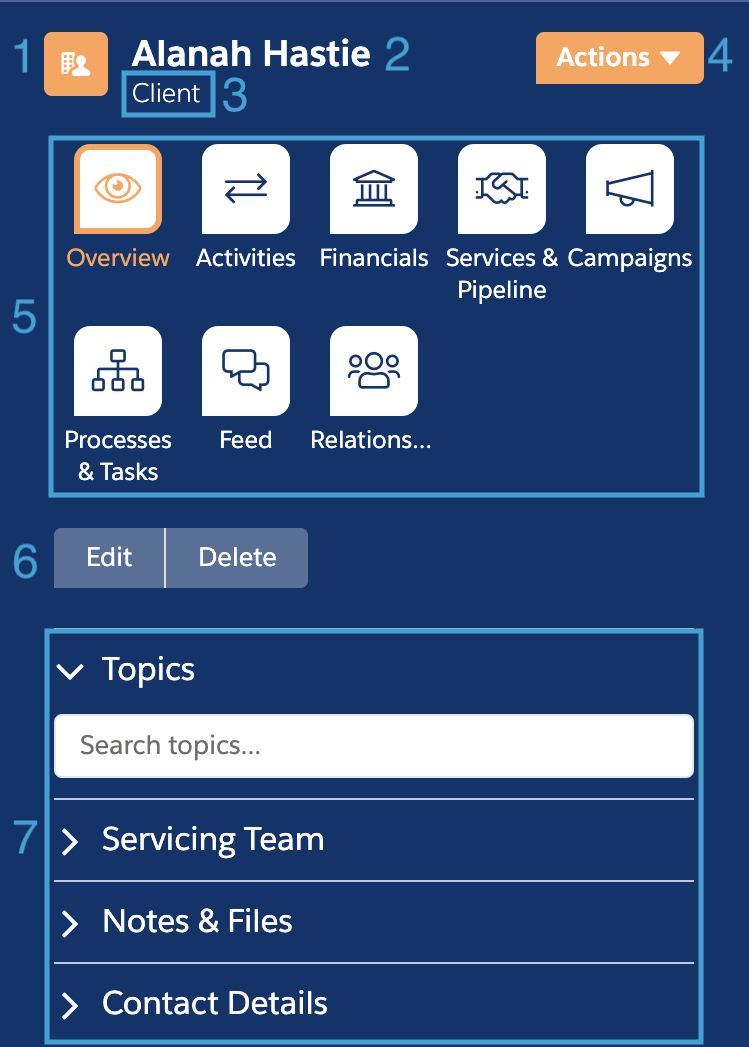 The record icon makes it clear quickly what type of record I have open. In this example, we're looking at an individual; you'll see different icons here for households, organizations, and divisions (team members instead have an avatar that they can upload themselves). Please note, households and organizations have the same icon.

This displays the record name.

In the case of households, organizations and individuals, you'll see the record's definitions appear below the name. In this example, Alanah is a client, and you'll also see other important classifiers here, such as Influencer Segment. We'll discuss definitions more in the next article.

The action menu is also unique to households, organizations and individuals. It provides a contextual set of actions you can perform to redefine the record and the firm's relationship to it. This will also be covered in the next article.

The navigation panel breaks the record page down into multiple sections. Selecting an item scrolls the section to the right of the side panel up or down to reach the desired point. Clients and prospects in Practifi have a lot of information to them, so you'll be using these buttons a lot too.

The Salesforce button bar contains actions included as part of the Lightning platform, such as Edit and Delete, as well as buttons added by AppExchange products your firm installs, such as "Send to Tamarac."

The side panel accordion is also unique to households, organizations and individuals, and contains several additional useful pieces of information about the record:

Topics - Assign unstructured, free-form classifiers to your records, such as "Malbec fan" or "Golfer." Topics assigned to records appear in the Topics column in record tables, making it easy to search or filter by them when looking at pages like Directory or Clients.

Servicing Team (clients and prospects only) - Add or remove team members to client or prospect records, and assign them a role, such as "Financial Advisor." Records appear in places like "My Active Clients" or "My Open Processes" record tables once the user is assigned to the Servicing Team for that client or prospect, so you'll want to make sure these stay up to date. You can even assign a default Servicing Team and automatically assign those team members to any client or prospect owned by that person. You can learn more about this feature by looking at Salesforce's help article on the topic.

Notes & Files - Write notes with rich text formatting and upload files related to the record. These are public by default, but you can make them private and control sharing more precisely if you need to. You can learn more about notes here and files here.

Contact Details - Easy access to important phone numbers and email addresses for the key contacts within the household or organization, or if it's an individual, for the person themselves.
Putting it all together
The side panel is only one piece of a larger whole, so let's take a look at a parent tab now: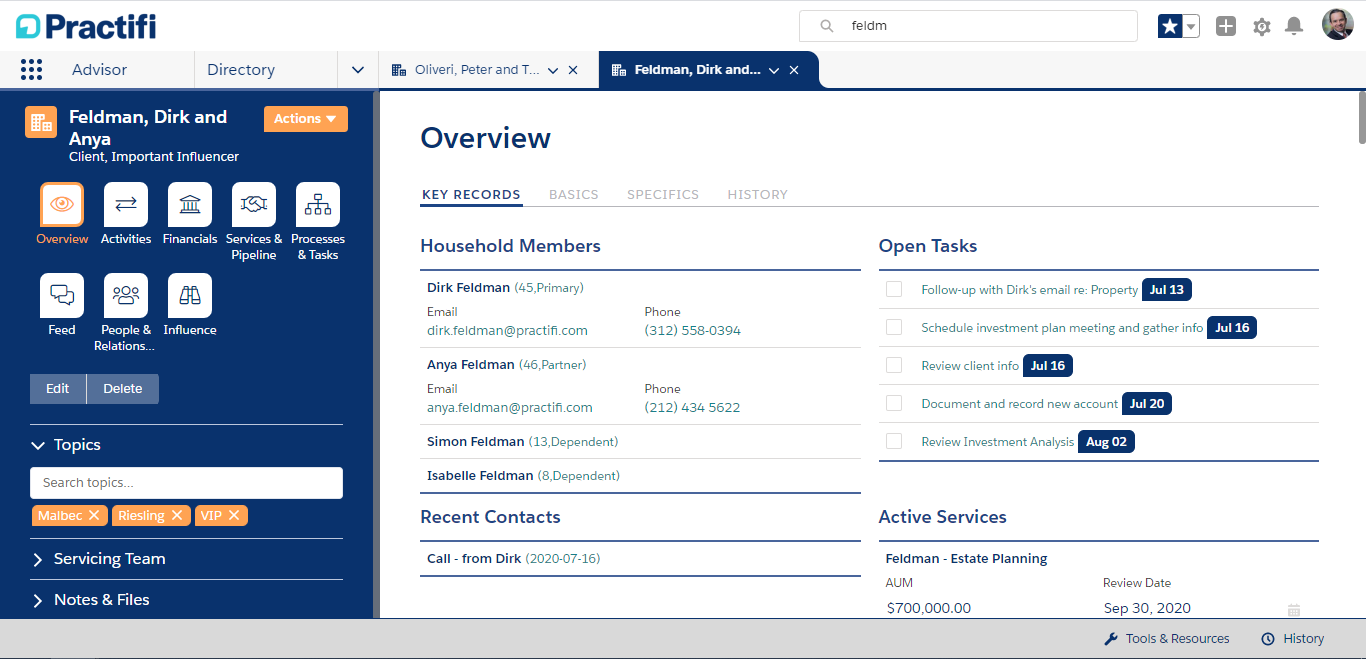 We're now looking at Dirk and Anya Feldman, a client with the firm, and you can see in the side panel that the Overview section has been selected from the navigation panel, so the main region on the right is displaying that section. The Overview section contains a few sets of information tucked away in page tabs: Key Records surfaced (clients only) in a series of sections like Household Members and Open Tasks above, as well as record fields broken out into Basics and Specifics and a History of changes made to important fields like Client Stage and AUM.
Scrolling through the various sections available in the navigation panel will show you page sections that look very different from each other, including the record feed, activity timeline and record tables. These are covered in more detail in other sections of the knowledge base.