The Feed is a collaborative tool where team members can '@mention' each other and provide ongoing commentary and updates within the context of a client. Allowing the team to collaborate around a client record removes the dependency on email. It enables a quick view of everything going on, including notes, text, uploaded documents, and files.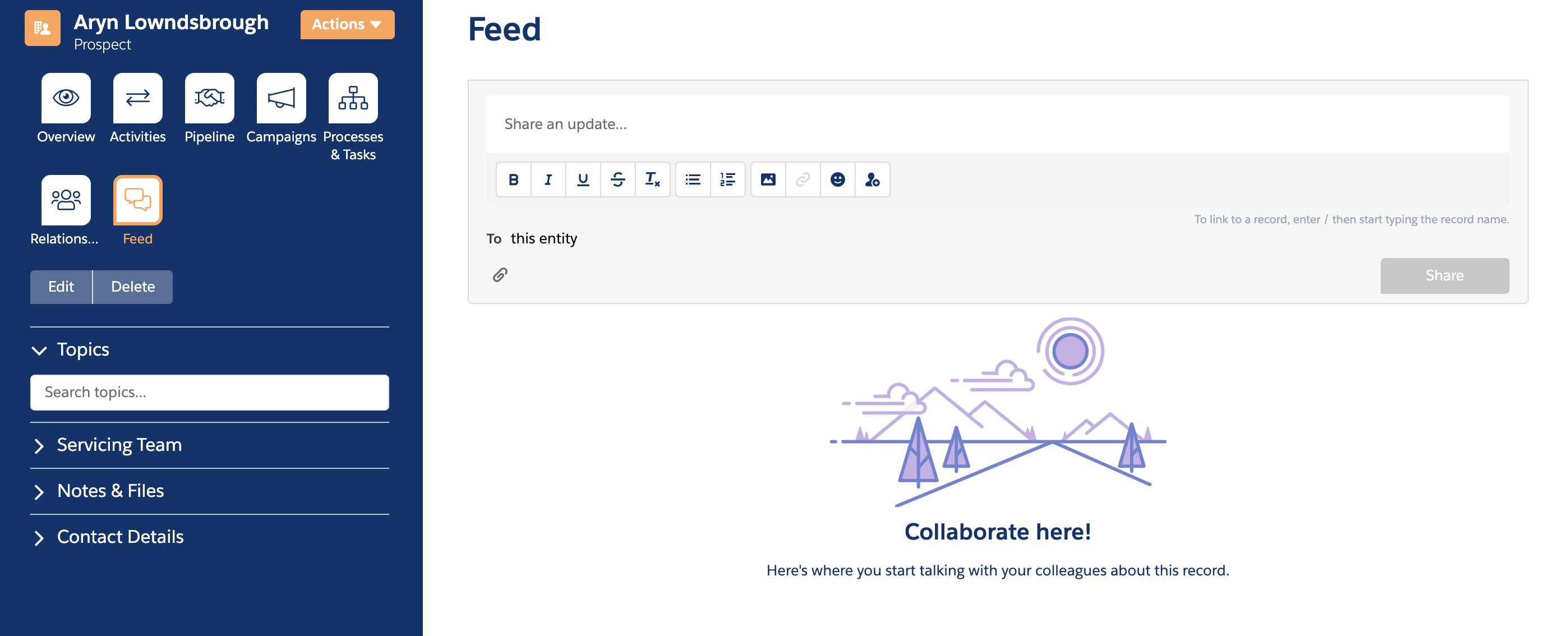 Keeping all commentary in one place makes managing internal communication and tasks significantly easier, more efficient, and effective. Posts are separated by topic and listed in chronological order. Replies to posts are grouped to encourage the flow of conversation between team members.
The Feed also plays an important role in compliance, though tracking important changes to the client and providing a central store of file notes, statements, and other key documentation.
Using the Feed
Once the Feed is accessed through the clicking Feed icon on a household, individual or organization, this page will display the following features: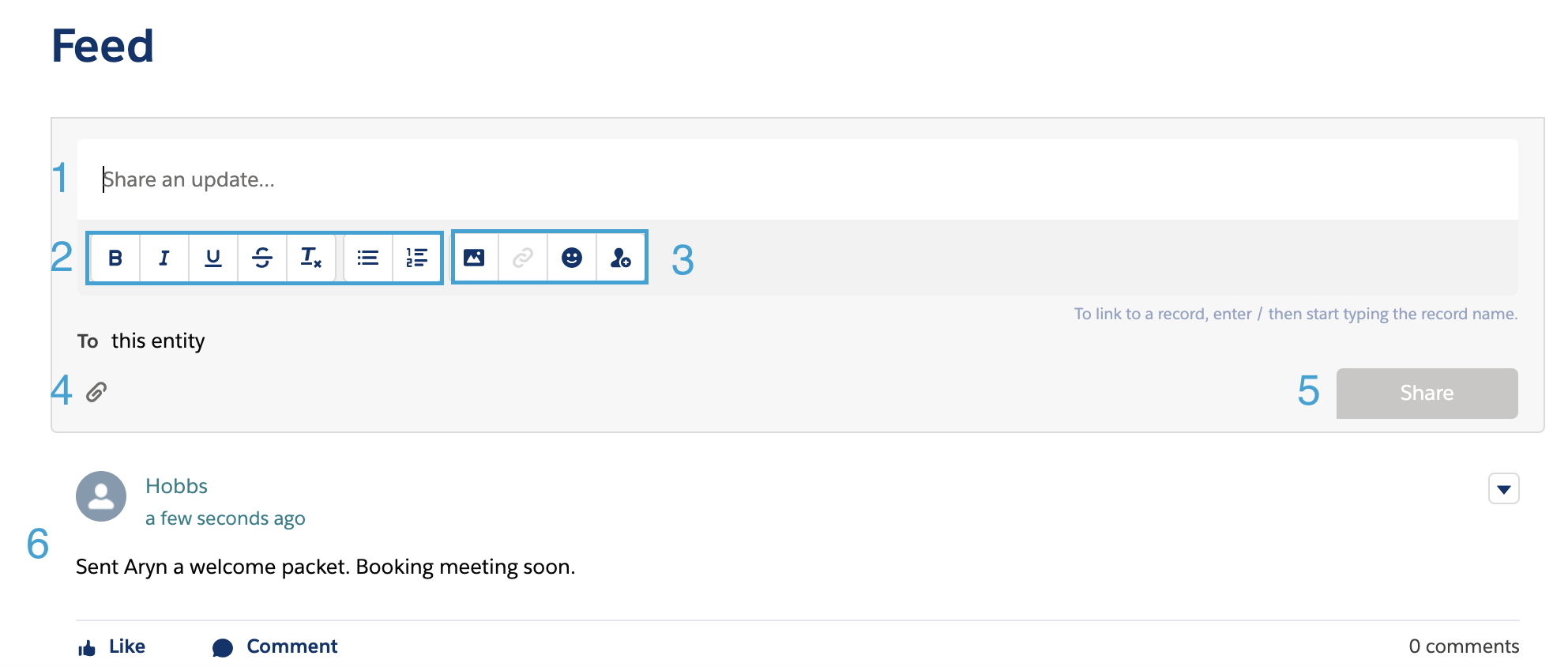 In this text space, you will write the update or information needed to share across your firm.

To link to a record, enter / then start typing the record name. As you type the record name, suggestions will appear. Select these to attach the record to your Feed post.

Edit the text by using the options in the formatting bar to bold, italicize, underline, or strikethrough text. The last text option will remove all text formatting selections. Text can be formatted into bulleted and numbered lists by using the list buttons.
Add photos, links, emojis, and tag users with these buttons. Tag a user in the text space to receive a notification by using the tag button or by typing @ followed by a team member's name.
Attach files, such a meeting notes, to the post using this button. Files attached to a Feed post can be from files already existing in your org or uploaded through the upload option given when selecting this attach option.
Share the Feed post by clicking this button. Sharing the post will add it the Feed display and send a notification to any team members mentioned in the post.
Feed display is where all posts related to the Household, Individual, or Organization currently viewed will display.
Posts made on the Feed will also display on the Chatter page, where posts made company-wide can be viewed and any draft or bookmarked posts.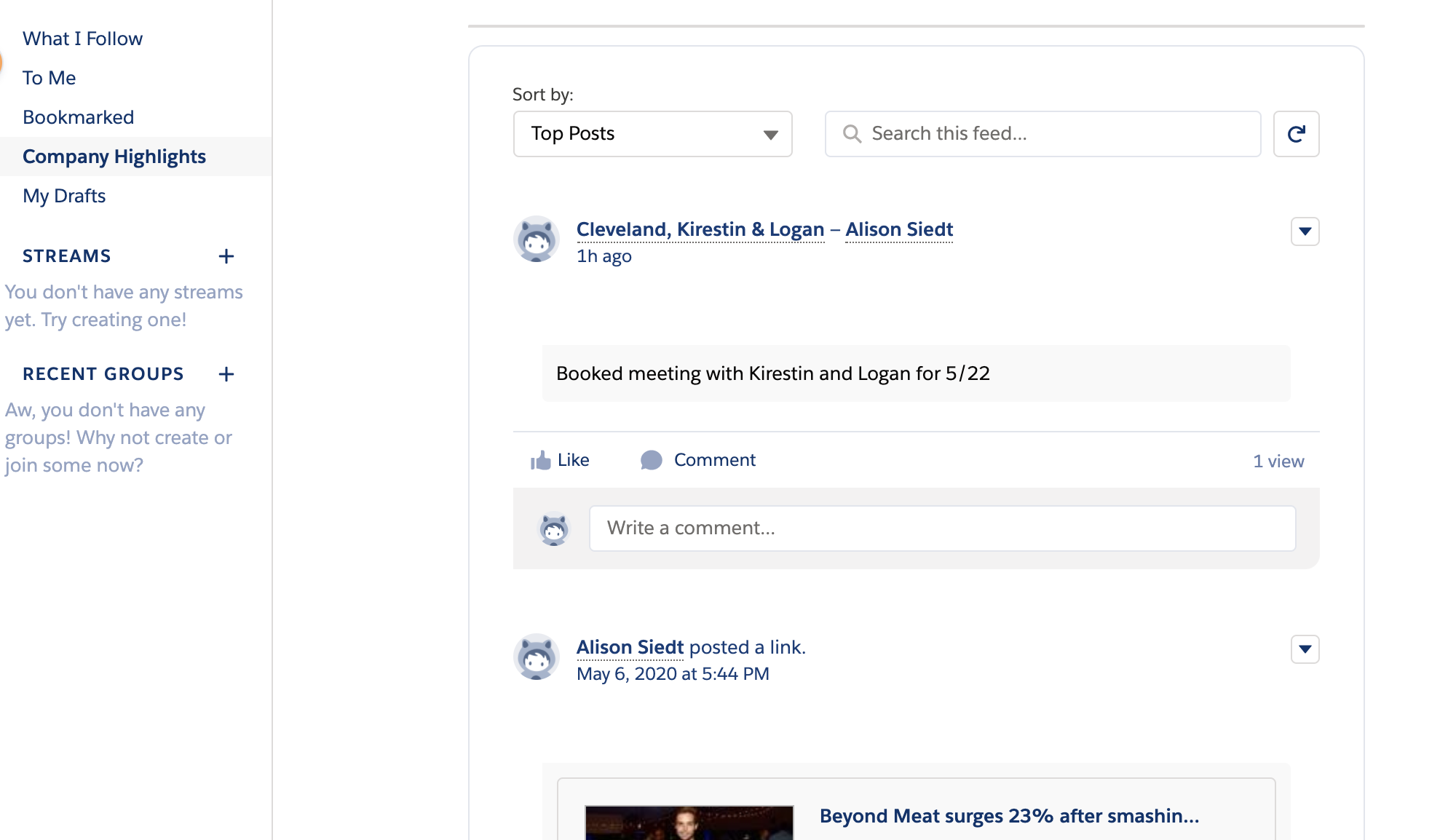 On the Chatter page, posts will display in chronological order based on sort selection, such as Top Posts or Most Recent Activity, with the latest posts appear at the top of the Feed. The options to the left-hand side of the Chatter Feed change the posts that display based on the selection made. Any streams or recent groups that you have created or subscribed to will display beneath the view selections.