As your firm develops relationships with influencers keeping track of these important clients and prospects is best done through adding influencer segments to their record definitions. These segments are available in standard, important, and critical to capture the levels of influence a household, individual, or organization has towards bringing new business to your firm. Learn more about these meanings and influence in our Understanding Influence article.
Adding an influencer segment
Once a client or prospect has been determined to be an influencer by your firm, an influencer segment can be added to their household, individual, or organization. To add the influencer segment, navigate to the Actions button on the record and select Add Influencer Segment from the dropdown, highlighted in teal in the screenshot below.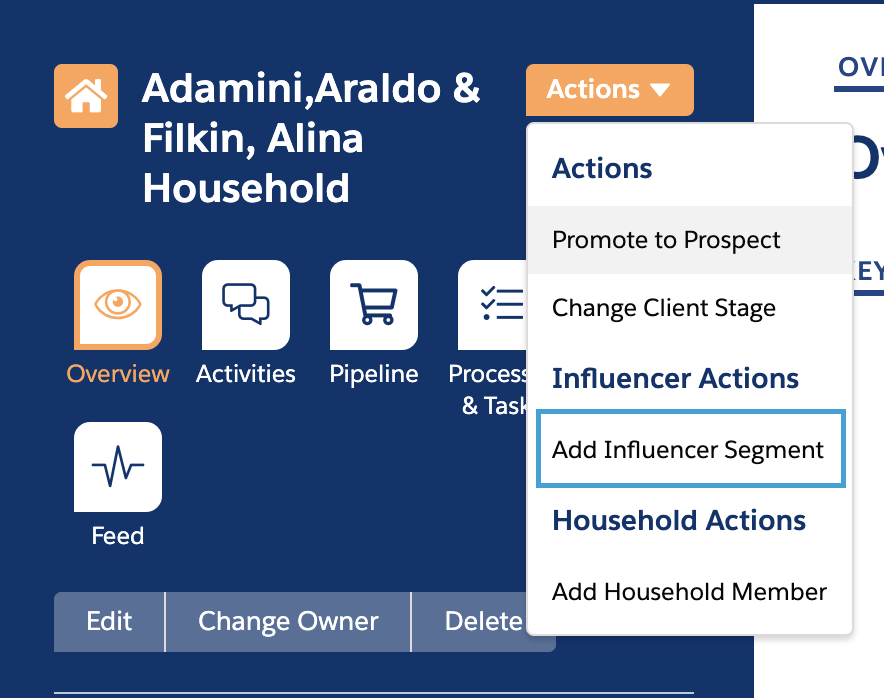 Selecting this option will open a pop-up menu where you can specify if they are a standard, important, or critical influencer based on their influence on bringing new business into your firm. Once the influencer segment has been selected, it will display as part of the client or prospect definitions beneath the record name, highlighted in teal in the below screenshot.

In the above example, the definitions provide a clear understanding of Joan and Ellsworth's status as a client household and their standard level of influence on bringing new business to the firm.
Changing or deleting an influencer segment
Once an influencer segment has been added to an individual, household or organization, it can be modified to reflect any changes in their level of influence on your firm.
To change an influencer segment, navigate to the previously mentioned Actions button. The selection under Influencer Actions has changed from Add Influencer Segment to Change Influencer Segment.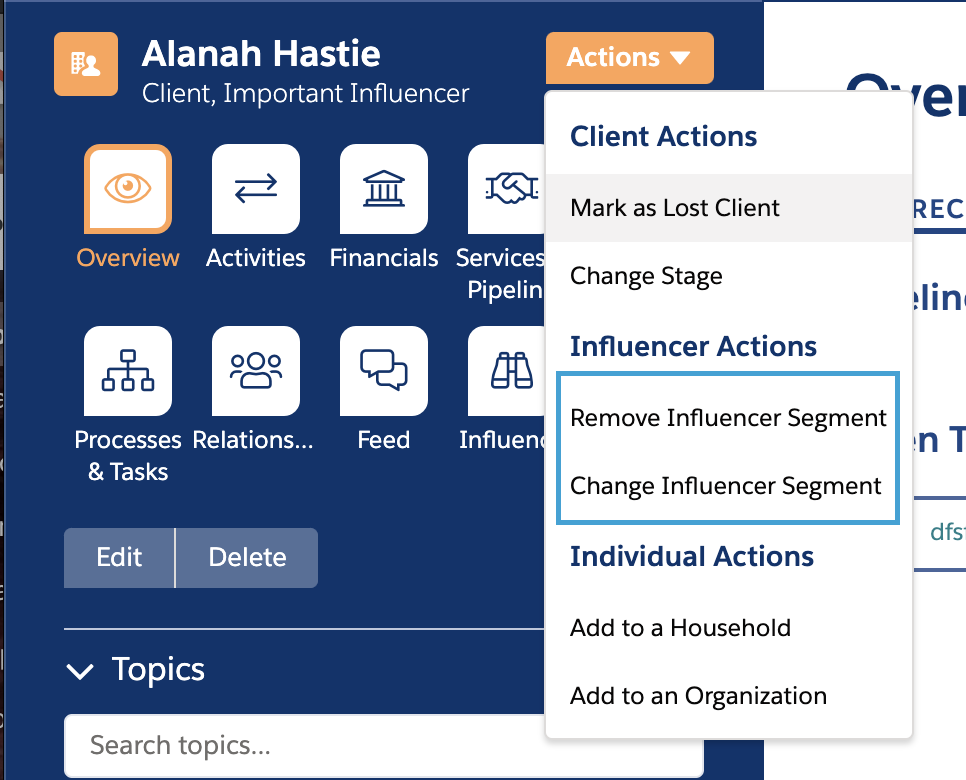 Selecting Change Influencer Segment will open a pop-up menu with the segments available to select. Changing the influencer segment will also change the client or prospect definition under their name to reflect the new segment.
If an influencer segment was added in error or your client is no longer an influencer, select the Remove Influencer Segment option under Influencer Actions to erase the influencer segment from the household, individual, or organization.
Viewing Influencers
Influencers can be viewed in a list format by selecting the Influence page from the navigation menu. This page will display all households, individuals, or organizations that have an influencer segment on a filterable table.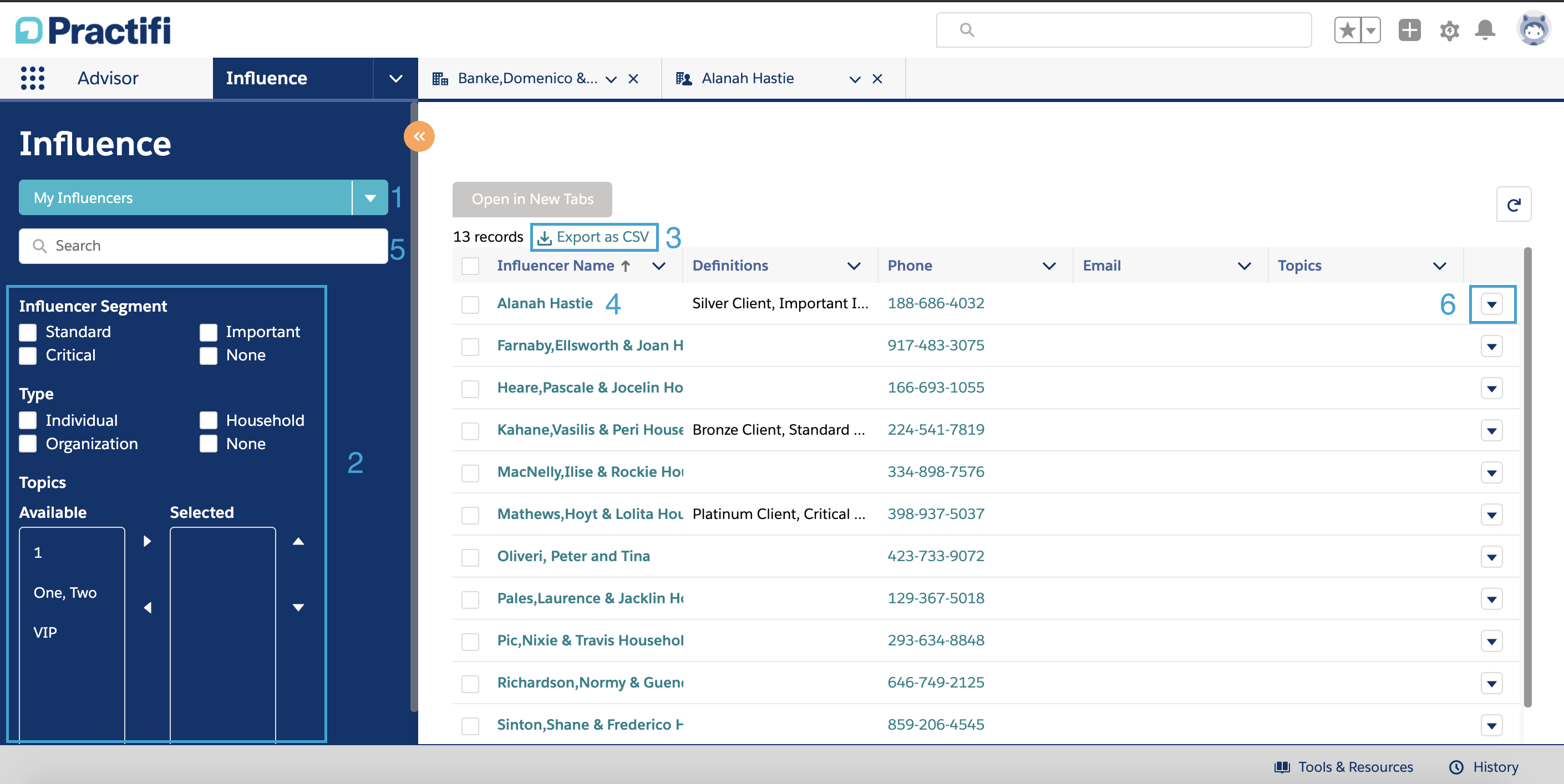 Change your data table by selecting options in this dropdown, such as My Influencers or My Division's Influencers. Data table availability will vary based on app context.
Filter the table to narrow down results displayed on the table to a specific Influencer Segment, such as Critical, using this drop-down filter.
Export the table to a CSV file using this button. This will export the table as it is currently displayed, including any filters applied.
Clicking on the entity name will take you directly to the household, organization, or individual to view their information in more depth.
Search the table with the search bar to find a specific influencer by entering information from any of the table columns displayed.
Edit or Delete an influencer's household, individual, or organization by selecting the options in this dropdown. Selecting edit will open a pop-up with the entity's information, such as their mailing address or birthdate, where the information can be quickly edited and the changes saved.